Friends of the Park
Here are some options for teams who need lodging for the Rastin Challenge. Please note that this is move-in weekend for one of our local universities so options may be limited. Please book as soon as possible and mention the Rastin Challenge at Ariel-Foundation Park when booking.
Mount Vernon Grand Hotel
No minimum-night stay. Cost is $139.
Comfort Inn - Mount Vernon (24 rooms available as of June 10, 2019)
Discounted rate of $135+tax. Use code AFP2019 when calling to make reservations.
Comfort Inn - Bellville (78 rooms available as of June 10, 2019)
Half-hour north of Mount Vernon.
You can receive the government rate of 5% off.
The following area hotels/inns are booked full for the weekend:
Mount Vernon Inn
Kenyon Inn
Holiday Inn Express
The following calendar shows when Ariel-Foundation Park facilities are reserved/rented.
Use the drop down arrow next to "Agenda" to select the facility/facilities in which you are interested.
Mount Vernon was recently named "Best Hometown" by Ohio Magazine--and for good reason! An on-the-rise central Ohio community of 17,000, Mount Vernon is a place where people smile and say hello to you on the sidewalk. They're happy to recommend the best cup of coffee in town or point you to the best place for a family meal. People of all ages will find something entertaining, educational, and engaging. Explore a local park with your family, take in a show at one of our historic theatres, race the kids on a giant waterslide, or enjoy a delicious fresh-baked treat while shopping downtown.
Learn more about Mount Vernon and Knox County at the Knox County Convention & Visitors Bureau. You can also read more in a special section of Ohio Magazine dedicated to Knox County.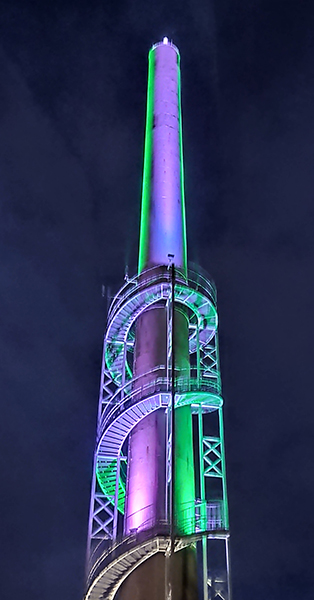 You can become a Lighting Partner for the Rastin Tower, the downtown footbridge, or the historic viaduct and honor someone you love or celebrate a special occasion by "renting" the lights for one night or longer. Ariel-Foundation Park will light the tower and/or downtown footbridges in the color(s) of your choice. PLEASE NOTE: We need at least one week's notice.

Included:
Announcement on Ariel-Foundation Park social media
Ideas:
Special anniversaries
Milestone birthdays
Wedding color(s)
School/alumni color(s)
Retirements
Causes like Breast Cancer Awareness and National Police Week
Price:
Location
One Color/
One Night
Two Colors/
One Night
One Color/
One Week
Two Colors/
One Week

Rastin Tower

$50

$75

$275

$450

Downtown Bridges


$50

$75

$275

$450

BOTH

$100

$150

$550

$900

If your lighting is for more than 2 colors, or for longer than one week, please contact our reservation specialist for pricing details at 740-501-9293.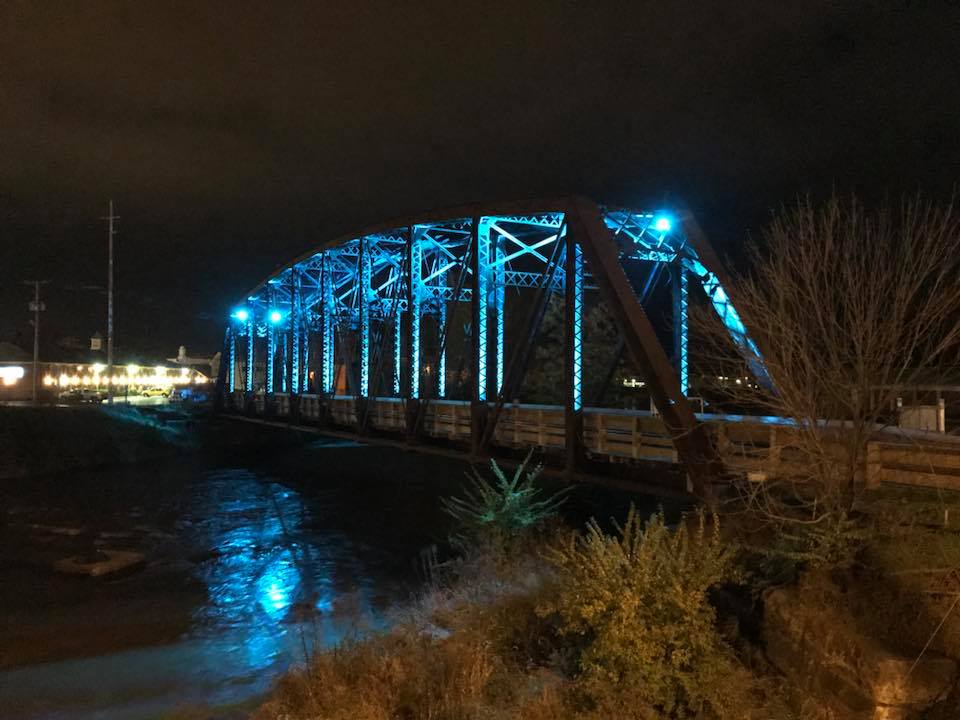 Terms of Application:
Applicants will be officially notified of acceptance or rejection via e-mail or phone.
Unavailable dates include July 4 and Christmas or any other dates the Foundation Park Conservancy has a specific lighting scheme planned.
Ariel-Foundation Park is under no obligation to provide any feedback if application is denied.
The Foundation Park Conservancy has sole discretion over what lightings are and are not approved.
There is no agreement renewal; current/past Lighting Partners must apply each year to be considered.
Approved applicant must promote the lighting beyond the included publicity.
Rastin Tower will not be lit for political campaigns or candidates, or religious holidays other than Christmas.
Save
Save
Save
Save
Save
Save
Save