Friends of the Park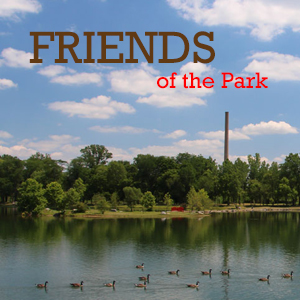 Ariel-Foundation Park was developed by volunteers using funds and services donated by generous businesses, foundations and individuals. Following its Grand Opening on July 4, 2015, the park was given to the City of Mount Vernon. The Foundation Park Conservancy is a nonprofit organization committed to providing financial support for the park, preserving the park and developing programming for the park.
Tax-deductible contributions may be made to: Foundation Park Conservancy, PO Box 644, Mount Vernon, OH 43050
VIEW A LIST OF 2023 FRIENDS OF THE PARK

PPG Employee Timecards
Former PPG employees can be honored with a permanent PPG Timecard which will be displayed in the Clock House. The cost is $250. Click below to fill out the form and make online payment.

Become a Lighting Partner
You can become a Lighting Partner and honor someone you love or celebrate a special occasion by "renting" the Rastin Tower lights or the downtown bridge lights for one night or longer. Ariel-Foundation Park will light the tower or bridges (or both) in the color(s) of your choice. Click to learn more...
Memorial and Honorary Gifts
Memorial or honorary gifts can be an especially meaningful way to commemorate a loved one or celebrate a personal milestone while also benefiting Ariel-Foundation Park.
Foundation Park Conservancy is able to accommodate a limited number of memorial and honorary Benches and Sunset Swings in strategic locations within Ariel-Foundation Park. Current costs range from $3000 for benches to $8000 for swings (subject to market changes) plus an additional 50% tax-deductible donation, which will be used to further the Conservancy's mission to care for and maintain the 250-acre property.
If you would like to recognize someone with a gift of a bench or swing, please contact Mark Fritz, Executive Director, at [email protected] for current costs and availability. Acknowledgements will be sent for all gifts, both to the donor and to the person or family of the person being memorialized or honored.
To maintain the beauty and mission of the park, all memorial/honorarium requests will be reviewed by the Foundation Park Conservancy Development Committee and are subject to approval.
Sunset Swings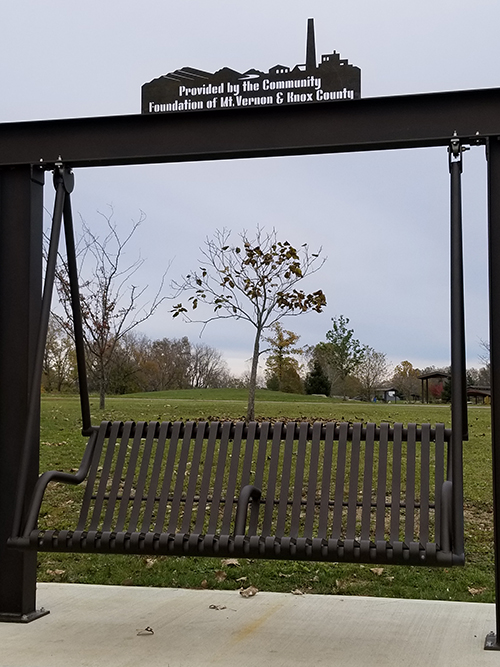 Sunset swings have been a beautiful and appreciated addition to "The Lakes" area of the park. Each powder-coated metal two-seat swing will sit on a concrete pad, offering a place to relax while watching the sunset at the park. These swings will be a wonderful place to unwind at the end of stressful day; to share a special moment among family members; or to take prom, engagement or wedding photos. Each swing will feature a metal sign above with wording of your choice (limited characters). The cost to commemorate a swing is $8,000 (subject to market changes) plus an additional 50% tax-deductible donation. These funds cover creation of the swing, installation, and maintenance, as well as provide for care of the park. To learn more, contact [email protected]
Benches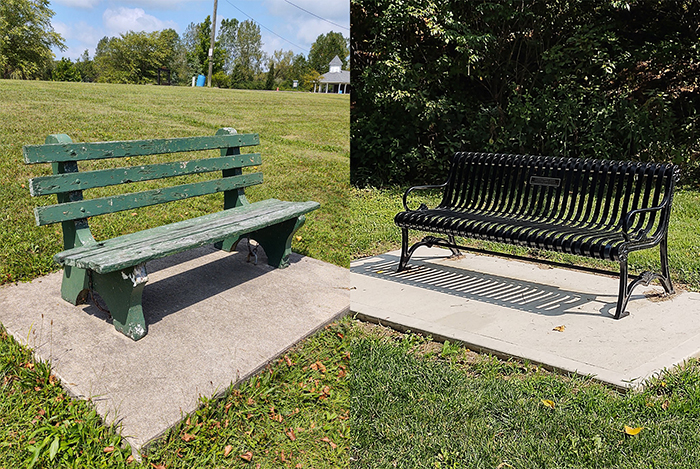 The Foundation Park Conservancy is in the process of replacing wooden benches that provide a resting spot near the East Lake. They are weathered and aging. The plan is to replace them with more durable and modern iron benches as seen in the photo on the right. The cost to name a permanent bench in honor or memory of someone special is $3,000 (subject to market changes) plus an additional 50% tax-deductible donation to support care for the park. To learn more, contact [email protected]
Book Available

The book, "Ariel-Foundation Park: The Story of an Ohio Town that Preserved its History and Transformed an Abandoned Industrial Site into a World-Class Park" by Aaron Keirns is available for purchase at Paragraphs Bookstore and The Kenyon Bookstore.