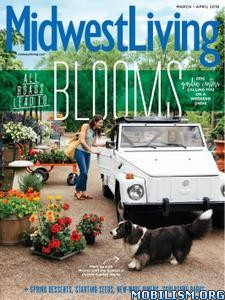 Ariel-Foundation Park, located in Mount Vernon, Ohio, a town of 16,000, is quickly gaining recognition on a larger stage. In addition to appearing in "Ohio" magazine in fall 2017, it was also featured in a regional publication this spring, and has been the subject of recent interest at the Massachusetts Institute of Technology (MIT) and in Victoria, Australia.
The March/April 2018 issue of "Midwest Living" magazine features the park alongside four nationally-known parks in Wichita; Minneapolis; Des Moines; and University Park, Ill. The article, titled "5 Don't-Miss Midwest Sculpture Parks," talks about the unique repurposed red steel sculptures in the park as well as the River of Glass, Tree of Life Labyrinth and the Rastin Tower.
The park was designed by local resident and expert Ted Schnormeier. The red sculptures were created and planned by Ohio landscape artist Bob Stovicek. Repurposing the old factory steel, their bright red color "pops" against the blue of the sky. Stovicek also designed the unpainted sculptures located around the park. These are the trusses that originally came from the Chicago World's Fair of 1893 and were used to build the Coxey Building. All other sculptures in the park are made of salvaged materials from the site. Their steel and glass components are authentic artifacts of local industrial history.
"It's very exciting to appear in Midwest Living magazine, which covers a variety of lifestyle information from 12 states and has more than a million readers," said Carrie Haver, the park's marketing director. "We're proud that 'our little park' is shown right alongside such prestigious and well-known parks, and hope that this brings additional attention and visitors to the central Ohio area."
In December 2017, Ariel-Foundation park staff were contacted by Kate Betts, senior advisor for communications and engagement of Alcoa of Victoria, Australia. She and her team were in the process of developing a master plan to turn a former power station into a park. They were fascinated by the Rastin Tower, formerly the largest smokestack on the PPG plant site. Park staff were able to relay valuable information about how the tower came to be and park operations, along with photos for their master plan which was distributed to the public at the end of January.
Betts explained, "We are looking forward to hearing feedback from our local community over the coming weeks. For many reasons, as outlined in the plan, this is a unique opportunity to transform a former industrial site and other adjacent landholdings, into a real community asset."
Now, almost three years from the park's grand opening, Foundation Park Conservancy President Kim Rose couldn't agree more. "Ariel-Foundation Park is rapidly becoming known nationally and internationally as an example of adaptive reuse of industrial real estate. It provides access to recreation and arts and has substantially increased the quality of life of our residents. This was a goal of our major donor, Karen Buchwald Wright."
Another interesting development came from Rose presenting in December 2016 to the Surplus Property Roundtable (SPR) in North Carolina on this same topic--the development of the park and how other industrial sites throughout the United States may consider similar action. The Area Development Foundation's Jeff Harris also spoke at the same meeting regarding the efforts to redevelop the Siemens campus.
This invitation to speak came from Michael Goldstein, a board member of SPR and manager of global remediation and transactions for Ingersoll-Rand. Goldstein was visiting his in-laws, John and Mary Lou Montenary, at Ariel-Foundation Park during a 4th of July celebration. He was fascinated with what he discovered there.
Created in 2012 to fill a specific need, the SPR provides a forum for senior corporate managers to exchange ideas and best practices in managing and disposing of surplus industrial properties. Case studies, presented at quarterly meetings, like those presented by Rose and Harris, offer members valuable insights about new disposition strategies that are directly applicable to their efforts to improve this business function within their own companies.
The relationship between Rose and Rountable leader Michael Goldstein has continued to develop and, in February, through a partnership of SPR with the Massachusetts Institute of Technology, the story of Ariel-Foundation Park's creation was shared as a case study with MIT graduate students in architect Marie Law Adams' urban design/studio practicum course. Adams, along with her architect husband Dan, is a founding principal of Landing Studio, an architecture, design and research practice whose work negotiates the intersection of large scale global industry with urban environments. Their work has been recognized with awards including a Progressive Architecture Award, the Architectural League Prize, an AIA Institute Honor Award, a Waterfront Center Award and Design Biennial Boston.
Adams' class is working on a project regarding the waterfronts in Long Island City in New York. This project is related to the Newtown Creek Project, also in New York, a superfund site. A Superfund site is any land in the United States that has been contaminated by hazardous waste and identified by the EPA as a candidate for cleanup because it poses a risk to human health and/or the environment. These sites are placed on the National Priorities List.
Other groups presenting to the class included the Detroit Riverfront Conservancy and a former GM North Tarrytown Facility grounds redevelopment project. "These are projects costing hundreds of millions of dollars, involving international corporations," Rose explained. "For Ariel-Foundation Park to be included with such prestigious developments is really incredible." While the other projects spoke heavily to brownfield issues, the park presentation focused more on purpose, community engagement and programming. Rose and board member Sam Barone presented for an hour via teleconference.
Barone stated, "The class enjoyed the vision of Ariel-Foundation Park, the creation and execution of the development plan, the interaction with the City of Mount Vernon and the creation of an endowment to sustain Ariel-Foundation Park. They were fascinated a smaller community could create and execute such a plan without the use of professional consultants. Several members of the class commented on how lucky our community was to have Buchwald Wright, a donor who is so committed to her community."
Adams, having already seen the presentation, stated that she loved the Ariel-Foundation Park project and told the group she was amazed by the creativity and design. She continued, saying she admired the programming and what the park does for the community. "What a great example of similar projects that could be used in smaller communities around the United States," said Adams. "I am so excited that my students were able to hear this presentation."
Goldstein summed up their conversation, explaining, "I hope both the Conservancy and your community understand just how significant the creation of the park is in the world of redevelopment of industrial plants." Foundation Park Conservancy is beginning to.