When the Pittsburgh Plate Glass Company (PPG) opened a factory in Mount Vernon in 1907, glassmaking was considered a highly dangerous occupation that required a certain set of skills believed to be a man's work. As in most other industries at the time, there were no women working at the factory until World War II. In 1940, as men went off to war, industrial companies needed to temporarily replace their workers, calling on women to take their place. Considered a prestigious occupation in the community, the women of Mount Vernon hired by PPG were granted one of the higher-paying jobs in town.
Joan Jones was one of the many women who came to work at PPG. She was in charge of creating a catalogue defining the types and shapes of glass the factory produced. Born in Mount Vernon, Jones' father worked at the factory as a tank superintendent, supervising shift work and glassmaking. In 1963, Jones began working at the factory in the front office, predominantly with women. In the front office, now known as the Clock House, women were expected to wear dresses, skirts, and heels. They were not given safety uniforms and, therefore, were relegated to the few safe places on site, as many buildings contained dangerous machinery and hot glass. During her four years working there, Jones stated, age and gender biases were prevalent at the factory, yet she made many lifelong friends there and found it an exciting work environment.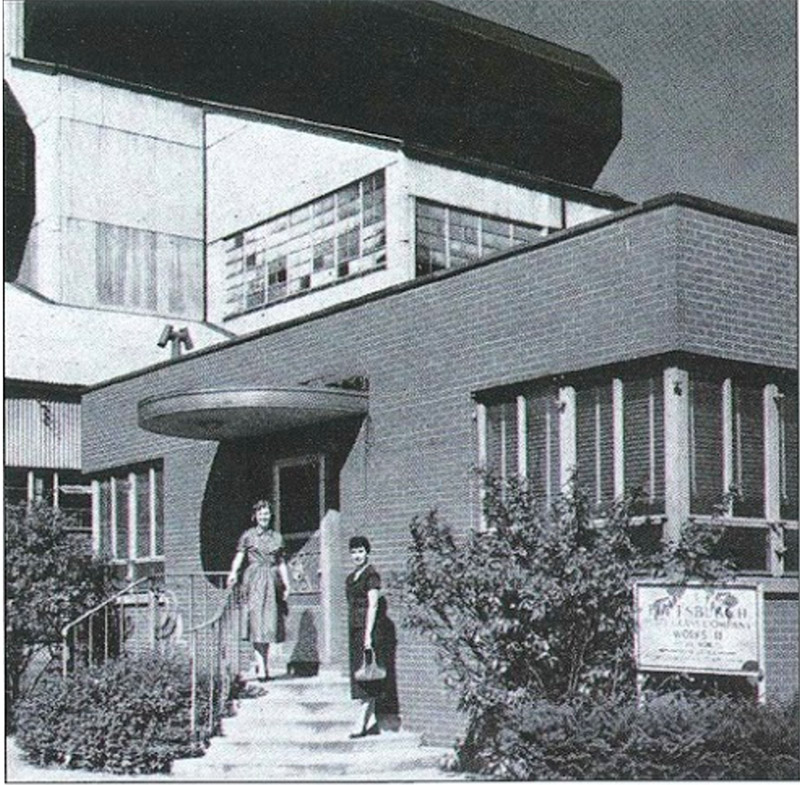 Two women identified as Judy and Barbara on the steps of the plant's front office in 1958. Beginning in 1963, Joan Jones is likely to have worked alongside these women, taking the same steps in the morning to begin her day. Printed in Ariel-Foundation Park by Aaron J. Keirns, courtesy of Larry Miller.
Sources
Keirns, Aaron J. Ariel-Foundation Park. Mt. Vernon, OH: Foundation Park Conservancy, 2015.
Video interview with Joan Jones.