At the heart of the Pittsburgh Plate Glass Company (PPG) was a thriving community of Belgian immigrants. During World War I, masses of Belgian refugees came to the United States, as their home country was torn apart by warfare. Belgium was a historical hub for glassmaking, a trade many immigrants brought with them to America. Belgian glassmakers typically settled in rural areas rich with the necessary natural resources for glassmaking, setting up family-run production studios. These small-time glassmakers would move from town to town as limited materials for glassmaking began to dwindle. Mount Vernon, however, offered Belgian glassmakers a more settled lifestyle, as PPG provided steady work throughout the year. Immigrants quickly rose up through the ranks, their specialized knowledge of glassmaking techniques leading to the creation of several of PPG's glassmaking patents.
For Belgian immigrants, glassmaking was a tightknit community, centered around family. Sons would train alongside their fathers at home for periods as long as three years before entering the workforce at the factory. The sense of familial duty and tradition among Belgian glassmakers provided stability at PPG. However, this emphasis on family ultimately led to the downfall of the glassmaking industry in the area. With the passing of each generation, higher education became of paramount importance to many Belgian families. Economic stability allowed for families to encourage their children to go to college instead of continuing in the family business. Many young Belgians moved away from Mount Vernon to pursue their individual interests elsewhere, creating a scarcity of trained glassmakers in the area. This shortage of apt workers hurt PPG and was a contributing factor to the plant's closure in 1976. Today, there are still some descendants of Belgian glassmakers in the Mount Vernon area, many of whom can trace their heritage through French surnames.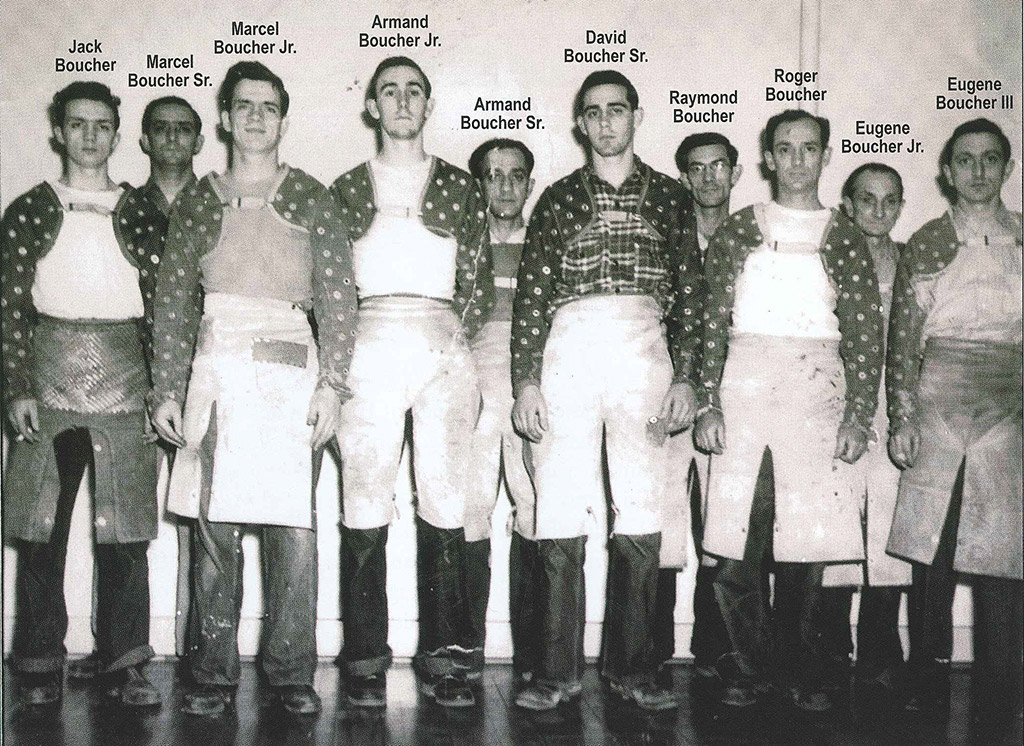 For Belgian immigrants, glassmaking was a family affair. These ten glass cutters represent two generations of the Boucher Family, who settled in Mount Vernon after emigrating from Belgium. The four older men in the back row were all brothers; the younger generation stands in front. Printed in Ariel-Foundation Park by Aaron J. Keirns, courtesy of the Boucher Family.
Sources
Keirns, Aaron J. Ariel-Foundation Park. Mt. Vernon, OH: Foundation Park Conservancy, 2015.
Di Lisi, Jennifer Marie Frate. "Belgians and Their Glassmaking Roots in Mount Vernon, Ohio." Living Together An Exploration of Rural Diversity in Knox County, Ohio. Accessed February 22, 2017.
http://www2.kenyon.edu/projects/livingtogether/belgians.htm