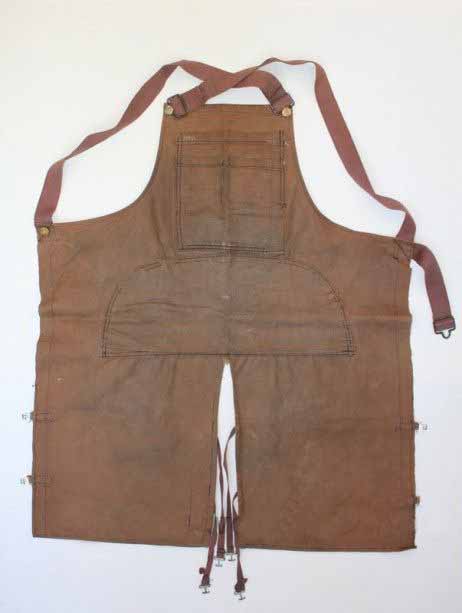 The protective clothing worn by glass workers was designed to protect the body from burns, punctures, and cuts. The glass workers at the PPG plant in Mount Vernon wore denim safety sleeves that protected from heat and were reinforced with grommets, to provide ventilation and prevent glass puncture. The sleeves were held in place by alligator clips on the chest that attached both sides of the sleeves together.
Glass workers would also often wear split-leg aprons that protected from heat, cuts, and abrasions, while allowing for ease of movement. Gloves were made of denim and had grommeted leather wrists. Other protective gear often included leather waist aprons, grommeted denim pants, and, towards the mid-20th century, hardhats and goggles. Special footwear, such as metal-soled boots and steel-backed wooden sandals that workers could buckle on over their shoes, was designed to protect the workers' feet from molten or shattered glass.

Tools included a glass cutter, which had a small wheel on one end covered in diamond particles, hardened steel, or tungsten carbide for scoring glass in preparation of a cut. The steel ball on the opposite end was used for tapping the side of a scored piece of glass, allowing it to split along the cut.