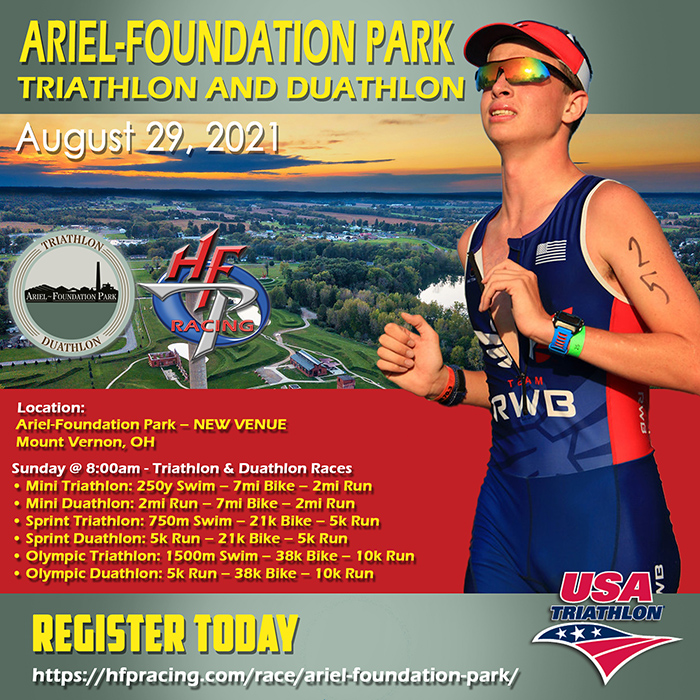 Sunday, Aug. 29
A fundraiser for the River of Glass renovation

HFP Racing (HFP) and the Ariel-Foundation Park (AFP) today announced a partnership to host the Ariel-Foundation Park Triathlon and Duathlon on Sunday, Aug. 29, 2021. HFP Racing will be adding this event to the line up in their Signature Event Series, which include the American Triple-T, Toughman Ohio, Tri CLE Rock Roll Run and Ohio's season ending multisport event, the Ohio Fall Challenge.
"The Foundation Park Conservancy board is always considering new ways to attract visitors to Ariel-Foundation Park. The opportunity to host a triathlon excites us because it not only will showcase this unique public space, but we will also be able to showcase Knox County's two bike trails which converge at the park," explained Melanie Bolender, Development Chair for Foundation Park Conservancy. " Triathletes will discover Mount Vernon has a vibrant downtown and will undoubtedly return. This event is a win-win for our community."
The Ariel-Foundation Park Triathlon and Duathlon will feature swimming in the calm and clear waters of Central Lake, followed by biking on the Ohio to Erie bike trail and the rolling hills in Knox County. The race finishes with a beautiful running tour of Ariel-Foundation Park.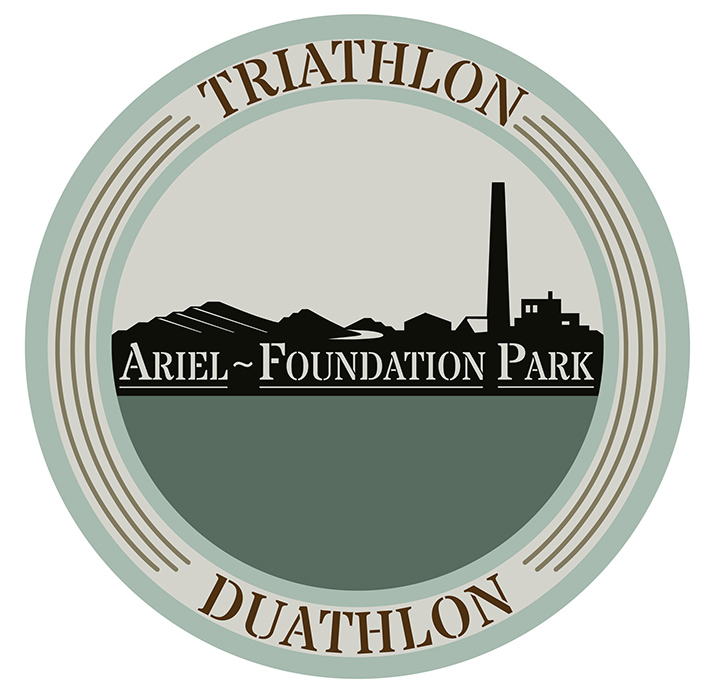 Participants that are non-swimmers can choose the duathlon division which substitutes an opening run for the swim. Additionally, the triathlon offers a 3-person relay (1-swimmer, 1-biker, 1-runner) and the duathlon offers a 2-person relay (1-runner, 1-biker). There are three triathlon and duathlon distances to choose from:
Mini Triathlon: 250y Swim – 7mi Bike – 2mi Run
Mini Duathlon: 2mi Run – 7mi Bike – 2mi Run
Sprint Triathlon: 750m Swim – 21k Bike – 5k Run
Sprint Duathlon: 5k Run – 21k Bike – 5k Run
Olympic Triathlon: 1500m Swim – 38k Bike – 10k Run
Olympic Duathlon: 5k Run – 38k Bike – 10k Run
All finishers will receive a handsome finisher medal and the top three in each division will receive custom awards (including relay teams).
"HFP Racing is thrilled to be partnering with the Ariel-Foundation Park and bringing this awesome new event to the Ohio multisport community," said Shannon Kurek, co-founder of HFP Racing. "Our participants will love this meticulously manicured park and the proximity to downtown Mount Vernon, which will make it a great family friendly event."
"This event has the makings of becoming a signature event in Mount Vernon. Recreation, especially at Ariel-Foundation Park, has had and will continue to be an economic driver for our community while providing fun and interesting activities for our residents and visitors alike," said Matt Starr, Mayor of the City of Mount Vernon. "The City is looking forward to working with HFP Racing and the Conservancy in shining another spotlight on this premiere park."

About HFP Racing: Founded in 1988, HFP Racing has been serving the multisport community for over 30 years. Over the last 3 decades HFP Racing has been blessed to have played a significant role in the building of multisport within the Mideast region. HFP Racing is a family-owned business co-founded by the husband-and-wife team, Shannon and Jennifer Kurek. More details on the 2021 events can be found at www.hfpracing.com.

About Ariel-Foundation Park: Located in Mount Vernon, Ohio, the park is a stunning 25-acre example of adaptive reuse, created on the former site of a glass-making factory. It offers architectural ruins, lakes, observation tower, walking trails, steel sculptures, a museum, and connection to both the Kokosing Gap Trail and Heart of Ohio Trail. For more information about the Ariel-Foundation Park, visit www.arielfoundationpark.org and follow the AFP on Facebook, Instagram and Twitter.