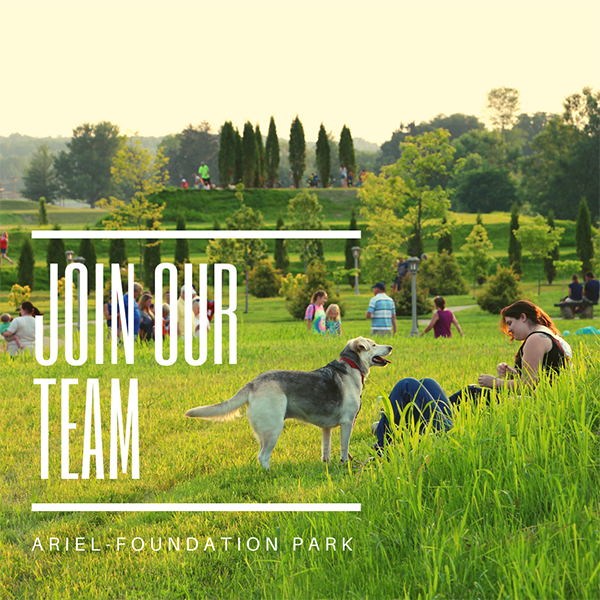 Park Experience Coordinator – Job Description
A part-time, year-round Park Experience Coordinator will oversee Ariel-Foundation Park (AFP) hosted programs and community events that make this amazing community asset a focal point for recreation, entertainment, and social interaction in Knox County.
Position Description
Duties of the Coordinator include:
Oversight of AFP's volunteer program
Planning and oversight of regular programs to include, but not limited to, First Day Hike, Kids to Parks Day, Halloween Hootenanny, Candles and Carols, Summer Fitness, the AFP July 4th Celebration and the Summer Concert Series
Development of new program partnerships which provide opportunities for others to utilize the park to build meaningful community connections
Assistance with management of the tower and bridge community lighting program which recognizes, celebrates and remembers people, groups and initiatives as requested by sponsors
Facilitation of informational park tours and associated programs designed to expand understanding of the former industrial site and knowledge of natural resources through hands-on education and activities
Planning and coordination of licensed food vendors for programs
Oversee event workers onsite for AFP sponsored events
Management of annual programming budget and associated reporting
Other duties as assigned
The Coordinator reports to the Operations Manager and works in partnership with the Foundation Park Conservancy Board and staff of the Mount Vernon Arts Consortium.
Requirements
Strong organization and planning skills, with attention to detail
Excellent written and verbal communication skills
Functional knowledge of MS Office
Self-motivated, able to work independently
Detail oriented with an adherence to deadlines
Ability to clearly communicate expectations and requirements to a wide range of individuals
Weekend, holiday, and evening availability
Reliability and flexibility related to work schedule
Must be able to lift up to 50 pounds
Ability to work independently and safely, adhering to and reinforcing event safety standards
Ability to problem solve, manage multiple tasks and priorities, make an informed decision independently, and recognize and respond to emergencies
Ability to provide excellent customer service with a positive attitude to all patrons, guests and partners
Ability to work closely with fellow team members
Desire to learn and adapt to quick and ever-changing environments
Must have a valid driver's license
High school diploma required; bachelor's degree preferred
Preferred Skills and Areas of Experience:
Program coordination, planning and budgeting
In-person customer service delivery
Event staffing and/or management
House management experience
Experience working with or for a nonprofit
To Apply:
Cover letter and resume are required. Submit by mail to Ariel-Foundation Park, P.O. Box 644, Mount Vernon, OH 43050.