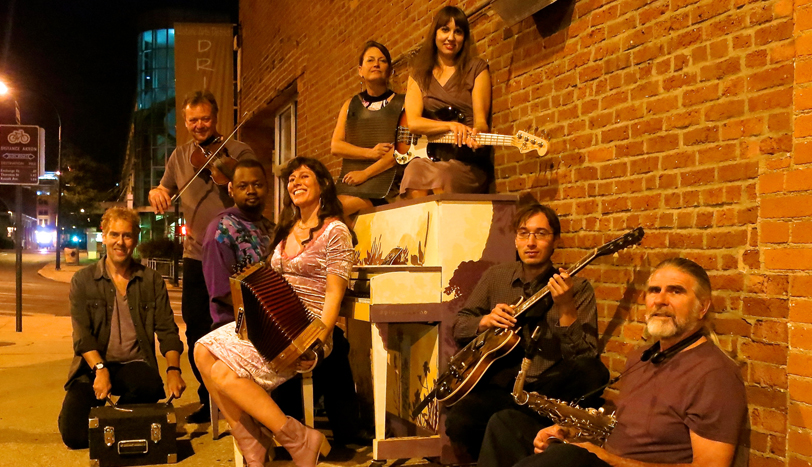 Saturday, August 18, 2018
Kokosing River Surf Club - 6 p.m.
Mo' Mojo (Zydeco) - 7:30 p.m.
Mo' Mojo
A hard driving, high energy, "Pardi-Gras" Band. The female-fronted group features three-part harmonies, accordion, fiddle, guitar, rubboard, sax, trumpet, harp, bass, percussion, and drums. Songs are sung in English and French.
Mo' Mojo takes Zydeco music and infuses it with Americana, Cajun, reggae, rock & roll, funk, R&B, and African and Latin rhythms.
We love festivals! This band can command any size stage and is equipped to lead workshops in fiddle and guitar styles; songwriting; Zydeco, second line, and African rhythms; and Zydeco dance. We've played festivals all over the United States and has played abroad in Haiti, the Dominican Replubic, Belize, Panama, Mexico, Barbados, and Columbia.
et to return to Blissfest (MI) and the W.C. Handy Blues Fest (KY) and we're looking to add others asap; in 2014 we debuted at DelFest (MD); Grey Fox (NY); and Rhythm and Roots (RI). Prior festivals include the Jambalaya Music Fest (PA); the Burning River Festival, Cleveland Garlic Festival, Kent State 'Round Town Festival, International Children's Festival, Hessler Street Festival, Fraze Pavilion Swamp Fest (OH)
Our members:
Jen Maurer - vocals, diatonic accordion, guitar
Leigh Ann Wise - vocals, rubboard, trumpet, percussion
Anthony Papaleo - vocals, fiddle, guitar
Joe Golden - guitar, talk box
Darren Thompson - bass
Will Douglas - drums
Also traveling with the band is our manager/roadie/driver/and Jen's husband, Sam Rettman, who adds harmonica and sax

Kokosing River Surf Club - Opener
The Kokosing River Surf Club delivers an upbeat and exciting show for your festival, club, or event. Mixing a wide variety of classic rock from the 50s to the late 70s and blending in a dose of blues and a touch of country, The Surf Club will keep you on your feet and rockin' the night away... Covering hits from Jerry Lee Lewis to The Doobie Brothers, Grand Funk Railroad to Joe Walsh,Creedence Clearwater Revival to The Rolling Stones, these seasoned musicians offer an exciting and interactive show.