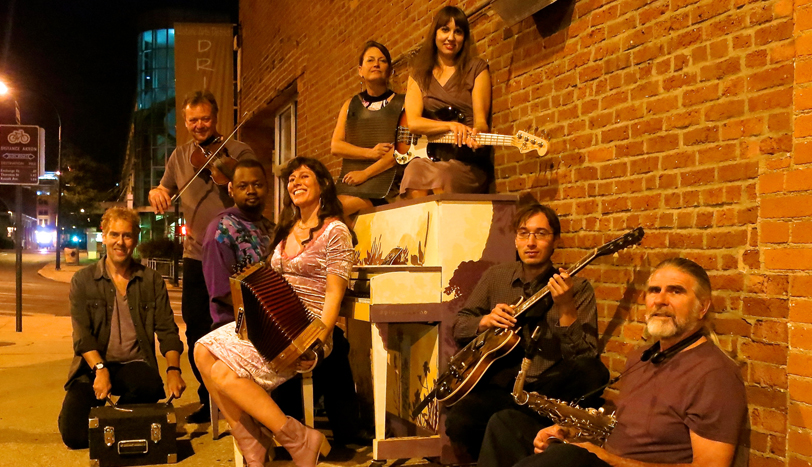 Saturday, August 18, 2018
Acoustic Edge - 6 p.m.
Mo' Mojo (Zydeco) - 7:30 p.m.
Mo' Mojo
A hard driving, high energy, "Pardi-Gras" Band. The female-fronted group features three-part harmonies, accordion, fiddle, guitar, rubboard, sax, trumpet, harp, bass, percussion, and drums. Songs are sung in English and French.
Mo' Mojo takes Zydeco music and infuses it with Americana, Cajun, reggae, rock & roll, funk, R&B, and African and Latin rhythms.
We love festivals! This band can command any size stage and is equipped to lead workshops in fiddle and guitar styles; songwriting; Zydeco, second line, and African rhythms; and Zydeco dance. We've played festivals all over the United States and has played abroad in Haiti, the Dominican Replubic, Belize, Panama, Mexico, Barbados, and Columbia.
et to return to Blissfest (MI) and the W.C. Handy Blues Fest (KY) and we're looking to add others asap; in 2014 we debuted at DelFest (MD); Grey Fox (NY); and Rhythm and Roots (RI). Prior festivals include the Jambalaya Music Fest (PA); the Burning River Festival, Cleveland Garlic Festival, Kent State 'Round Town Festival, International Children's Festival, Hessler Street Festival, Fraze Pavilion Swamp Fest (OH)
Our members:
Jen Maurer - vocals, diatonic accordion, guitar
Leigh Ann Wise - vocals, rubboard, trumpet, percussion
Anthony Papaleo - vocals, fiddle, guitar
Joe Golden - guitar, talk box
Darren Thompson - bass
Will Douglas - drums
Also traveling with the band is our manager/roadie/driver/and Jen's husband, Sam Rettman, who adds harmonica and sax
Acoustic Edge - Opener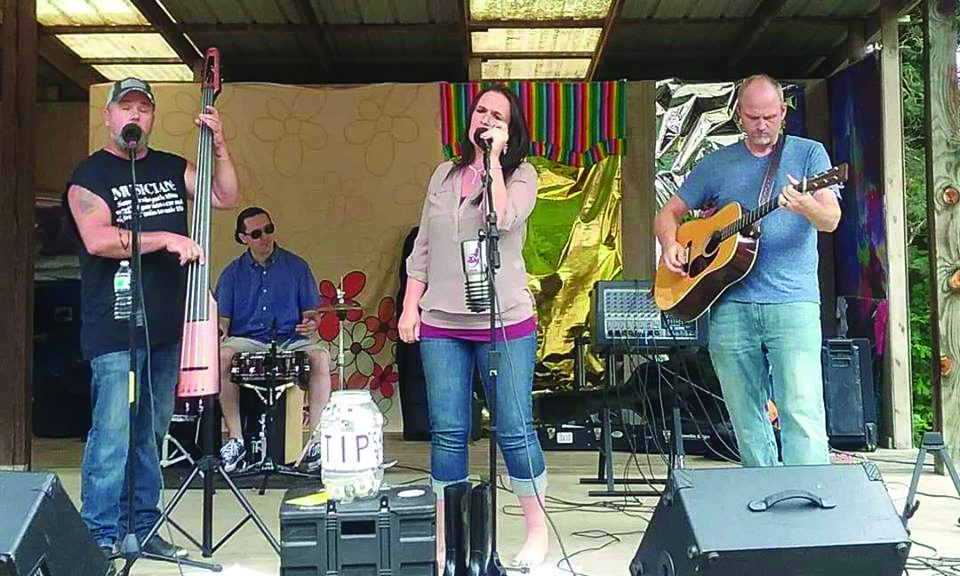 Like so many country bands, Acoustic Edge owes it's start to Nashville. Powerful vocalist Heidi McCloud and multi-instrumentalist Mitchell Ball first met there in a crowded honky tonk in 2009. They felt an instant musical connection, and were surprised to learn that they lived only 60 miles apart back in Ohio. Mitch and Heidi started playing and writing music together almost immediately, and were soon booking shows all around Ohio. The pair then became a trio when they added the upright bass and seasoned vocals of Steve Baxter, who sings lead and backup along with Heidi. More recently, experienced drummer Eric Frisch joined the band, rounding out the group's pulse and creativity. Today, Acoustic Edge is on a mission to introduce you to your next favorite country song. From bygone classics like Jackson and current favorites like Mama's Broken Heart to originals like Gypsy Soul, this working man's band knows how to pick and play the songs that fans love to hear. Don't be surprised when they stray from country on occasion to show their bluegrass roots or classic rock too. We promise you'll be singing or dancing along before the night is over.
Lead Singer / Harmony Vocals
Bio: Heidi is an accomplished vocalist from Pataskala, Ohio, with 30+ years experience, of performing on many great stages all over Ohio, West Virginia, & Tennessee. Her passion for singing, songwriting & creating music has always been a first & foremost priority since she saw a dream she believed she could make a reality. She found her love for singing at the age of 5 from the pew of her hometown church, & from there it was onto the stages of every competition she could enter, which opened many doors, that eventually lead to starting a band of her own with Lead Guitar player Mitchell Ball, naming the band Acoustic Edge...
Lead Guitarist/Mandolin - Mitchell Ball
Bio: Mitchell is from Mansfield/Lucas & has a long history in the music field, & not only has a hand at playing Rhythm & Lead Guitar, but Mandolin, Banjo, Bass & Drums as well. He's had the pleasure of playing along side many great musicians in the past, & has had a part in playing several genre's of music including Rock, Bluegrass, & Country. He's been fortunate enough to play at many well known Bluegrass Festivals with previous band, Copus Hill, & now plays Lead Guitar/Mandolin full time for Acoustic Edge, playing all over Ohio, & the surrounding states.
Upright Bass - Steve Baxter
Bio: Steve is currently the Bass Player for Acoustic Edge, originally from Ashland County. He is known for starting a well known Bluegrass Band back in the 90's called, Faces Made For Radio, where he took the position as Lead Singer, & Guitar player for several years. He's a well oiled machine when it comes to Lead/Harmony Vocals, & has a great niche for song writing as well. He joined Acoustic Edge as their full-time Male Vocalist, & Upright Bass Player back in 2012.
Drummer - Eric Frisch
Bio: Eric is a musician, worship leader & creative thinker based in Columbus, Ohio. Currently, he serves as the Worship Arts Director at CenterPoint Church in Lewis Center, Ohio. He also performs with & and works as the Production Manager for the Westerville Symphony Orchestra, instructs the drumline at Otterbein University, plays with Acoustic Edge and The Two Guys Band, & cohosts The Plugged In Church, a technology podcast for small churches. Eric is passionate about God, people, & the arts & loves finding creative ways to merge those passions
The Acoustic Edge Band is put together of 4 members, performing both cover, & original tunes, offering a variety of Country, Alternative & Folk/Bluegrass genres.
Our members are influenced by today's Artists such as Miranda Lambert, Billy Currington, Eric Church, Little Big Town, The Band Perry, Jason Aldean, Ashton Shepherd, Jamey Johnson, Kenny Chesney & Lady Antebellum..
We also go back to Janis Joplin, Bad Company,Johnny Cash, Alison Krauss, Merle Haggard, & Patsy Cline.