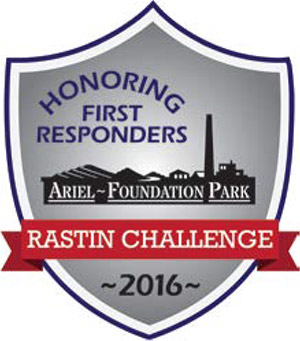 (Links coming soon...)
Online Event Registration | Rastin Challenge Schedule | Rastin Challenge Event Poster
Saturday, August 26, 2017
Challenges for first responders will begin at 9 a.m. Funds raised will be used for cash awards for the competing departments and will go toward a scholarship fund for a Knox County resident pursuing a career in safety service. The public will be encouraged to observe the challenges and show support for first responders.

Various safety service-related displays will be available during the morning and afternoon as well.

Youth and civilian challenges will be held in the afternoon beginning at noon. Civilian challenges include stair climb (4-person team) and fire truck pull (6-person team). Youth will have an opportunity to compete in various physical activities related to careers in safety service, including standing broad jump, terrace climb, pull ups, push ups, sit ups, and burpees. Members of the Mount Vernon Police Department will lead bike rides around the park so youth should bring their bikes and helmets!

Concessions will be available, including beer and wine. There will be a free concert that evening - Mowtown Sounds of Touch at 7:30 p.m. in the Schnormeier Event Center.