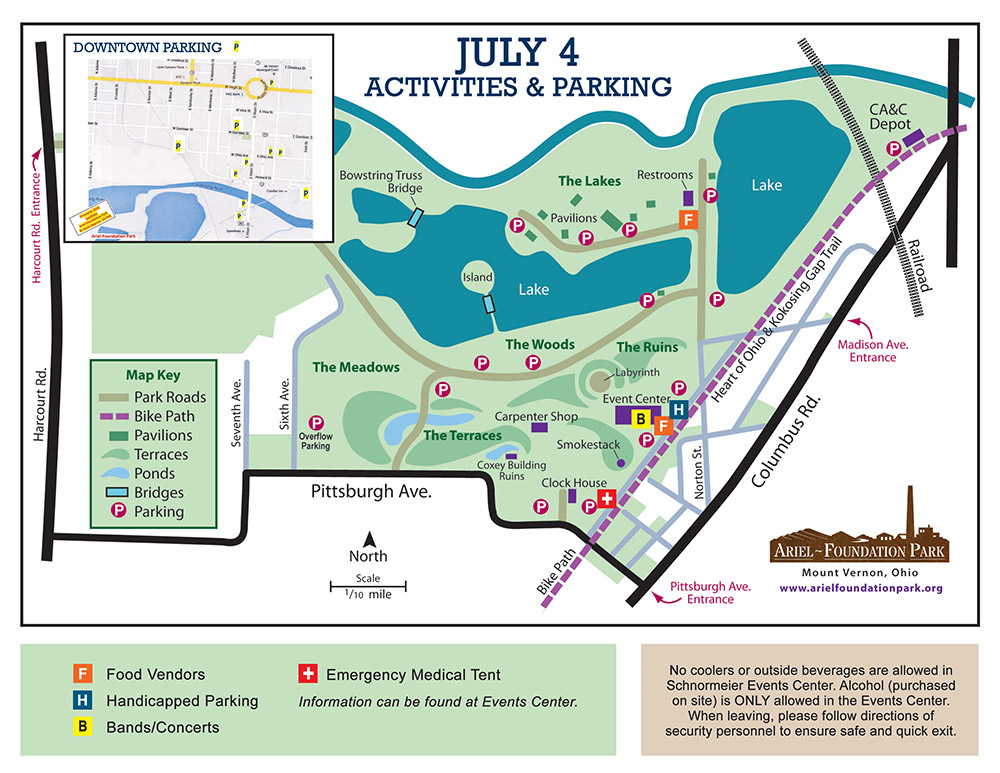 Ariel-Foundation Park will host Mount Vernon's fireworks on Monday, July 4. The fireworks, expected to start around 10 p.m., are preceded by concerts, including KrisB's Midnight Railroad (3 p.m.), American Idol's Alexis Gomez and the Mad River Band (6 p.m.), and The Dublin Silver Band (8:30 p.m.).
Volunteers will park attendees upon arrival. A majority of parking will be available at The Lakes, entering from Madison Avenue; The Meadows off of Pittsburgh Avenue; near the Schnormeier Event Center or Clock House off of Pittsburg Avenue; and in the parking area off of Harcourt Road. Handicapped parking will be available in front of Schnormeier Event Center. Please note that shuttles will not be available and there will be no parking in the grass but in designated areas only.
Additional parking areas within walking distance of the Park include downtown lots and downtown street parking (there will be no time limits enforced on July 4), the CA&C Depot on South Main Street and Memorial Park.
Food service will begin at 2 p.m. and food vendors will be stationed near the restrooms by The Lakes and directly in front of Schnormeier Event Center near The Ruins. Super Q 93.7 FM will be broadcasting live starting at 6 p.m.; Super Q 93.7 FM will simulcast the music to the fireworks display. No outside coolers or beverages are permitted in the Event Center; alcohol, purchased on site only is allowed in the Event Center.
Those interested in spending the day on the water or watching the fireworks on the lakes are encouraged to bring kayaks and canoes, outfitted with appropriate life jackets. Fishing is also encouraged throughout the day. Swimming is prohibited. The Clock House Museum will be open until 6 p.m. and visitors may climb Rastin Observation Tower until 8 p.m.
In order to secure the area for the fireworks presentation, the road through The Woods will be closed beginning at 3 p.m. The main park road in front of the Event Center will also be closed at 3 p.m. allowing pedestrian traffic only. Pittsburg Avenue will be closed from the Clock House parking lot to 6th Avenue starting at 6 p.m.
"We have a plan to get event-goers out of the Park as quickly and safely as possible after the fireworks, provided people follow the direction of the police, sheriff's deputies and other security personnel on duty," said Park Manager Scott Zimmerman. "We believe this is going to be a great event and expect that attendees will cooperate to make it a positive experience for everyone."
Suggested locations from which to view the fireworks other than the Park include Arch Park, the Harcourt Road parking area for Ariel-Foundation Park, CA&C Depot, or Memorial Park.